Description
Versatile, aero, light, and fast. The SES 3.4 has been a staple in the SES wheel family, and the newest iteration takes the best features of the previous generation SES 3.4 and 3.4 AR to make the ultimate modern road wheelset. There's simply nothing more versatile than the SES 3.4.
• The one wheel quiver
• 1390-gram wheelset weight (with XDR body)
• Inner rim width: 25mm
• Aero optimized tire size: 27mm-28mm (Labeled)
• Minimum labeled tire size: 27mm
• Tubeless Only
Available with both Shimano 11/12 and SRAM XDR free hub bodies
Description:
As the most versatile wheel in the line, the SES 3.4 is the go-to for just about any terrain or surface conditions. From the Dolomites of the Giro d'Italia to the gravel of Unbound to the town sign sprint on the lunch ride, the 3.4 has proven time and time again that there are no limits on its capabilities. The new SES 3.4 shares many similarities with the previous SES 3.4 AR, such as the 38mm front and 42mm rear rim profiles and 25mm inner width, while receiving a laminate update that reduces weight to 1390 grams for the wheelset.
The high-volume design of the rim and Wide Hookless Bead technology not only makes the SES 3.4 a modern road wheel that is raced at the World Tour level, but it's also a favorite for mixed surface events due to its feature benefits that clearly separate it from other wheels in the same depth category. Pinch-flat resistance, low weight, and an aero profile optimized around high-volume tires are key features of the SES 3.4, making it the most adept all-around wheelset.
Falling between the SES 2.3 and SES 4.5, the SES 3.4 is a clear choice for the rider seeking a lightweight option for any terrain, on any road. With an internal width of 25mm, the confidence in handling that comes with the rim and tire volume makes it a game-changer on technical descents and rough pavement. Like the rest of the SES wheel line, the SES 3.4 has been optimized for road tubeless performance and features a hookless bead design that allows for the precise rim dimensions required to achieve the best tubeless performance. To further tubeless tire and rim reliability, the full carbon wheelset features ENVE's patent-pending Wide Hookless Bead, which is a design element at the leading edge of the rim that provides a surface that, when impacted, will reduce the likelihood of pinch flatting a tubeless tire.
SPECIFICATIONS
DIMENSIONS
| | FRONT | REAR |
| --- | --- | --- |
| Depth | 39mm | 43mm |
| Internal Width | 25mm | 25mm |
| External Width | 32mm | 32mm |
| Hole Count | 24 | 24 |
| Effective Rim Diameter | 578 | 571 |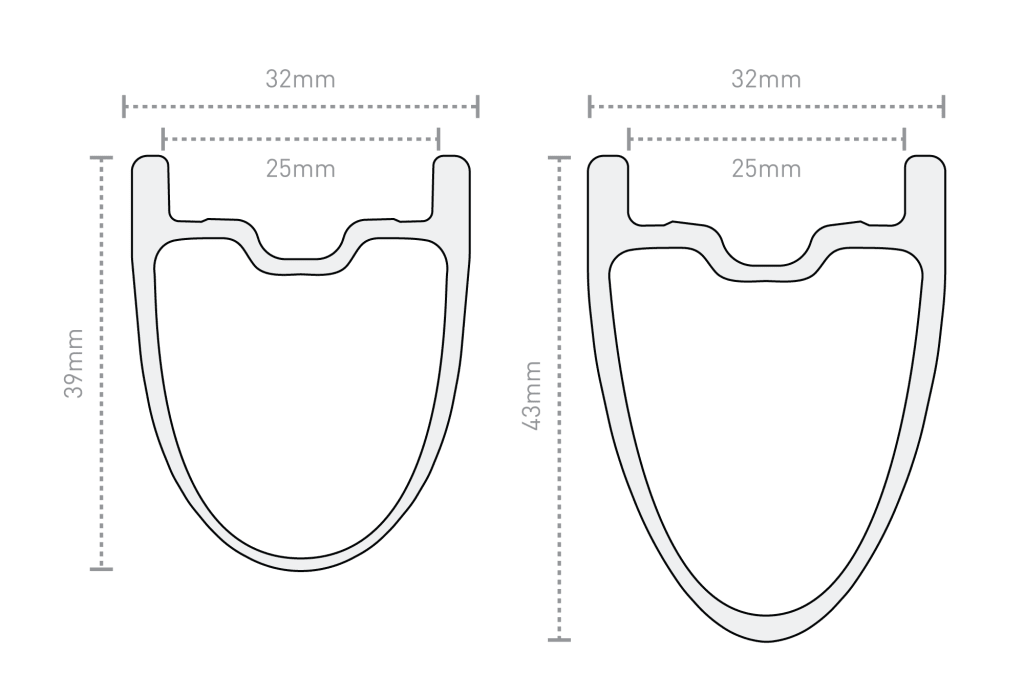 TIRES
| | |
| --- | --- |
| Aero Optimized Tubless-Ready Tire Size | 29mm |
| Minimum Tire Size (Labeled) | 27mm |
| Maximum Tire Pressure for Min. Tire (psi | bar) | 80 | 5.5 |
| Tire Type | Tubeless Ready |
| Tubeless Tape Width | 29mm |
WEIGHTS
| | FRONT | REAR | WHEELSET |
| --- | --- | --- | --- |
| Rim Weight | 370g | 378g | 748g |
| ENVE Premium Road Disc (XDR Freehub Body) | 634g | 756g | 1390g |